Submission By: Ella Ardent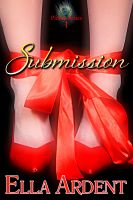 Welcome to the Plume – where members are bound by desire and fantasies come true…
Lifestyle reporter Joanna is prepared to do whatever is necessary to get the story about the notorious private club known as the Plume - even apply for membership. Rex will do anything to protect his club and the privacy of his membership - and he isn't adverse to teaching Joanna a lesson about curiosity - and control. They both get more than expected when Joanna's own secret desires are revealed.
Adult-content rating: This book contains content considered unsuitable for young readers 17 and under, and which may be offensive to some readers of all ages.
My Review
Submission is the first book in the Plume Series. The Plume is a Private BDSM club that everyone one is talking about and nobody knows about. In this book Joanna, a straight lace reporter goes undercover to get the story about Plume in order to write article but the club weeds out its clients and knows who she is and goes about making sure she never steps foot in Plume.
One of the Owners Rex is a guy from her high school days who would do anything to protect his club and his clients but also anything to have Joanna. This book has a little of everything from Blackmail to Ribbon Bondage.
The story is well written and has steamy scenes involving taking Joanna from the vanilla world she thought she lived in and needed to submissive role she craves. It however does leave you wondering what will happen when with Mike …will he tell Joanna he used to work for Plume and was part of the lifestyle… What will happen when Plume's Owners finds out about Joanna's story… What will Rex do… What will Joanna do… Oh the complexities of this story and its questions. Good thing Ella Ardent has book 2 Surrender.
I rate this 4 out of 5