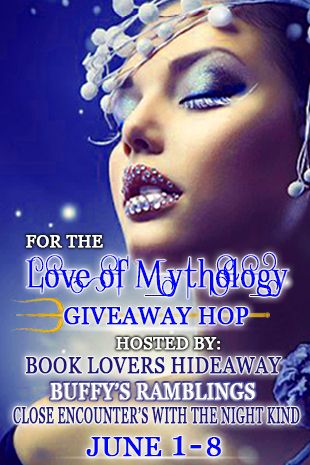 Hey All,
So I am super excited to be part of this hop. I love Mythology and own many books about Greek,Roman, and Egyptian Gods and Goddesses. When I orginally went to college I planning to be a History Teacher and focus on Ancient Civilizations and Medieval History.
My love of Mythology started when I was about 4 years old when my Dad came back from a tour in Egypt(he was in the Army), he brought back beautiful items;Jewelry, Oils, Egyptian Cartouche necklaces and so many stories. He would give history lessons at my school (as I got older) when were learned about Egypt and Ancient History, He would bring all the goodies He brought back from Egypt. My friends would tell me I had the coolest Dad, which i agree with to this day. I found my love of Roman and Greek Mythology when I was about 8 and we were living in Italy, I wanted to know more and loved how Greek and Roman history is intertwined. In my house hubby is the American History Buff and I am anything and everything Ancient Civilization based.
For my book part of the hop I am going to introduce you to Krystal Shannan's Pool of Souls Series....
Blurb
Intrinsically woven into the fabric of human existence, Aphrodite, Titan Goddess of Love and Passion, dedicates herself to matching soul mates.
Rebecca Carol and Robert Corvin missed their original chance to bond when Ares, God of War, took control of Robert's career ten years ago. Their souls have naturally pulled them back together for a second chance at love, but...How far will the gods go to get their own way?
Will divine influence create another perfect match or will it tear them apart forever?
The first book Open House:Pool of Souls is currently free on Amazon...Your gonna want to snag it up because My Prize is related to this Series
Click the link to get this currently free book from Amazon Open House:Pool of Souls Book 1
Anyway enough about me... You want to know about the prizes... So the grandprize for this Hop hosted by Book Lovers Hideaway, Buffy's Ramblings, and Close Encounter's With the Night Kind is.
The Grand Prize Consists of the following :
$45 Amazon GC or $45 worth of books at TBD
ebooks from Patricia Bates
a prize from Lisa Beth Darling
an ecopy of Sunburn by Rosanna Leo
an ecopy of Ain't No Bull by Danica Avet
an ecopy of Remedy Maker by Sheri Fredricks
an ecopy of Mything You by Greta Buckle
an ebook from Tmonique Stephens
an ecopy of Eros First Fix by Dana Littlejohn
Enter to win Grand Prize via the Rafflecopter
a Rafflecopter giveaway
What Can you win From Stopping At My Blog?????
Well There are Four Prizes so that means Four Different Winners...Crazy I know
Two winners
will each win a ecopy of Finding Hope: Pool of Souls Book 2 By Krystal Shannan... Gived by me though Amazon. Plus bookmarks from Krystal Shannan,Tina Folsom(signed), and C.L Pardington(signed) all myth based books
Two winners
will recieved signed book marks from Tina Folsom and C.L Pardington
Enter the Rafflecopter below
a Rafflecopter giveaway
Continue Hopping